Spyker signs CPP Global Holdings deal for sportscar arm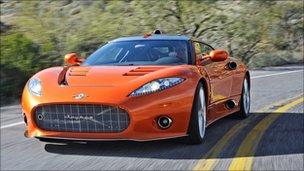 Spyker, the Dutch carmaker that owns Saab, has signed a provisional deal to sell its sportscar arm to UK-based, Russian-owned, CPP Global Holdings for around 32m euros ($44m; £27m).
Any deal would involve an initial payment of 15m euros.
Spyker's C8 Aileron sportscar is already built in Coventry in the UK.
CPP, which is owned by Russian businessman Vladimir Antonov, said a deal would mean creating more jobs in the city.
"The management of the company has very exciting plans for Spyker and the brand is entering a period of major developments," said Brendan O'Toole, CPP's managing director.
Spyker Cars said it would change its name following a deal.
"The transaction would allow [us] to exclusively focus on the Saab Automobile business while reducing debt and improving operating results through reduced interest expenses," it said.
"In terms of overall results of Spyker Cars, the Spyker business had become immaterial," said Victor Muller, Spyker's chief executive.
CPP has a workforce of 250.
Related Internet Links
The BBC is not responsible for the content of external sites.