Boeing wins contract to provide aerial tankers for USAF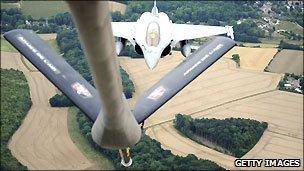 Aircraft manufacturer Boeing has won a lucrative contract to provide the US with 179 aerial refuelling tankers.
Boeing and European rival EADS had been competing for almost a decade for the $35bn (£21.6bn) US Air Force contract.
During that time both the US and the European Union have reported each other's companies to the WTO, alleging illegal subsidies.
And over the past decade two previous attempts to choose a contractor have failed.
The USAF is replacing its current fleet of KC-135 Stratotanker tankers, some of which date back to the 1950s.
Air Force Secretary Michael Donley said there had been a careful and thorough selection process.
Now EADS has 10 days to file a protest with the Government Accountability Office (GAO), the arm of Congress which deals with federal contract disputes, should it object to the decision.
The GAO would then need to make a decision within 100 days.
If it stands, the Boeing decision is good news for Washington state and Kansas, where much tanker work will be done.
Washington state senator, Patty Murray, swiftly welcomed the news.
"Today's long-awaited decision by the Pentagon is the right one for our military, our taxpayers and our nation's aerospace workers," she said in a statement.
Boeing and EADS had both been offering variants on existing twin-engined passenger jets: the Boeing 767 and the Airbus A330.
An original plan was scrapped in 2004. Costing $23.5bn, it would have seen the airforce lease and then buy 100 modified Boeing 767s as tankers.
Then in early 2008 EADS, partnered with Northrop Grumman Corp, won a 179-plane deal.
That was then cancelled after government auditors upheld parts of a protest by Boeing.
Last year Northrop pulled out of the partnership, leaving EADS to bid alone.
The governors of Alabama, Mississippi and Louisiana had backed EADS' bid, as it was understood the European firm would have built its tankers in Mobile, Alabama.
Related Internet Links
The BBC is not responsible for the content of external sites.