Glazers deny Man United sale as strong figures revealed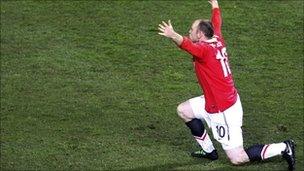 The Glazer family has again denied rumours of a plan to sell Manchester United to Qatar, as the football club revealed strong merchandise sales.
"No discussions have taken place, Manchester United is not for sale and the owners will not entertain any offers," said the publicly listed firm.
The new results showed revenues of £156m for the six months to December, up 8% on a year earlier.
Commercial sales of £50m were up 30%, despite calls to boycott merchandise.
A campaign by some fans has sought to discourage spending on the club's commercial offerings in protest at the Glazers' ownership.
Instead, protesting fans have been sporting the green and gold colours of Manchester United's predecessor, Newton Heath.
A report by business analysts Sport+Markt had claimed that sales were down 10%, but the club claimed this was only true of its stadium megastore, and reflected the lower number of home games played so far this season.
But while the movement may have had some impact on local supporters, the company's results suggested that spending by the club's mostly international fanbase had nonetheless risen steadily.
"The report represents an area of the world [in the vicinity of the club's stadium] which only contains one in 14 of our 333 million global fans," said commercial director Richard Arnold ahead of the results' release.
Meanwhile, the football club's balance sheet - a sore point for many fans since the Glazers' debt-financed takeover - was somewhat healthier.
Gross debts fell and rising cash balances rose, meaning that the club's net debt position - the difference between the two - fell 9% over the year, to £355m.
The Glazers' insistence that they remain committed to their long-term ownership of the club follows a similarly robust statement three months ago that failed to quash rumours of a possible sale.
Related Internet Links
The BBC is not responsible for the content of external sites.