India railway budget freezes fares in bid for voters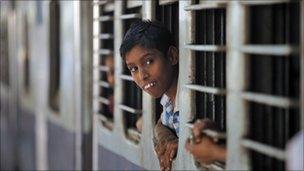 Indian railway minister Mamata Banerjee has unveiled a national freeze on passenger fares and freight fees in her new annual budget.
The move comes ahead of state elections in which her Trinamool Congress party - a junior coalition partner in Delhi - hopes to win control of West Bengal.
The railway budget is seen as a good indicator of the national budget due next week.
The minister also announced $12.7bn (£7.9bn) of new investment.
The spending will be funded mainly by government grants and borrowing, and will build 1,300km of new track and 18,000 new carriages.
"We have attempted to combine a strong economic focus... with a human face," said Ms Banerjee, who presented the budget in parliament.
"We have taken a two point approach - on the one hand by sustainable, efficient and rapidly growing Indian railways, and on the other by an acute sense of social responsibility towards the common people of this nation."
The government is expected to unveil a national budget next week that includes major new spending commitments.
It comes amid voter anger over rising inflation and a series of corruption scandals.
Related Internet Links
The BBC is not responsible for the content of external sites.