The rising cost of non-league football's ambition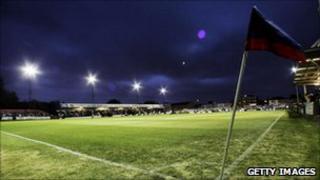 Top-class football is often accused of extravagance and financial recklessness, but research shows that more non-league clubs are suffering insolvency problems than their professional counterparts.
Fans tell 5 live Investigates that this is a result of careless management - so should the FA be doing more to manage finances in the lower leagues?
"The players that we bought were far too good for our level. We would normally sign our centre forwards from Redditch and Bromsgrove.
"But we signed one from Angola. We were signing players from Conference clubs. We were signing players who had very recently been in League football and it was obvious that the wage budget was very high."
Guy Cooper, a lifelong supporter of Halesowen Town, which currently plays in the Zamaretto (Southern) League, reflects on the vaulting ambition which took his club to the brink of bankruptcy.
Halesowen Town is not a club which could ever afford to splash out £50m on a striker like Chelsea did on Fernando Torres, but in their way, the Yeltz - as they are nicknamed - were just as extravagant, albeit without the back-up of a "sugar daddy" Russian oil tycoon.
As a result, they went into administration in September 2009 owing more than £250,000.
Out of pocket
The victims included groundsman, Ian Hipkiss, who had to borrow money from his mother to prevent his house being repossessed when the club failed to pay him more than £6,000 in wages.
Shropshire-based Osprey Water Management also lost out. They had to absorb an unpaid invoice of £11,000 for irrigation work carried out on the club's pitch.
Speaking to 5 live Investigates, Osprey's managing director, John Jinks, recalls: "We were told day in, day out, that the money would be forthcoming.
"The next thing we were told the club was going into administration. We came out with nothing."
Supporters claim Halesowen's decline dates to the appointment in 2007 of Morrell Maison, a well-known figure on the English non-league scene, who ran the club both on and off the pitch.
Maison, for his part, insists that he just wanted to improve Halesowen's status, and points out that when the Yeltz went into administration he lost out financially too.
Whatever the rights and wrongs of this particular dispute, it is undeniable that similar financial crises are becoming more common in non-league football.
Too ambitious
Dr John Beech, the head of sport research at Coventry University, and author of the blog Football Management, has analysed 20 years of football-related financial data.
His research establishes that over that period 68 non-league clubs have suffered "insolvency events" compared with 66 of their professional counterparts.
Insolvency events cover a range of financial crises, from liquidation to administration to company voluntary arrangements (CVAs), and essentially refer to the moment when a club can no longer pay its bills.
Victims include the likes of Windsor and Eton who folded altogether when it was liquidated earlier this year.
"I think the big problem in all this is the dreaded 'A' word - it's not administration, it's ambition," Dr Beech observes.
He argues that the time has come to prevent football clubs becoming a means by which wealthy patrons can boost their egos without paying heed to the consequences.
"I think the primary responsibility is to stop this benefactor model where benign benefactors pour money in, because I think that is going against the sporting ethic. It's the deliberate attempt to upset the competitive balance in a league."
Supporter takeover
An alternative model of club ownership is emerging, following the creation of Supporters Direct in 2000.
The organisation, originally backed by the last Labour government, offers assistance to fans who want to run their clubs on a not-for-profit basis, and has helped followers of more than a dozen mostly non-league sides take a controlling interest in their team.
Supporters Direct promotes long-term sustainability over short-term success, introducing a note of financial sanity to a game more usually noted for welcoming spendthrift backers.
"There needs to be better control over the sorts of people that enter the game," says Supporters Direct spokesman Kevin Rye.
He explains that as League clubs have become prohibitively expensive, unscrupulous business owners have increasingly aimed their sights at lower levels.
Many of the new breed of director, he claims, would be "more interested in the land value that the ground was sitting on, rather than the community spirit that might be there".
As Uefa introduces new Financial Fair Play rules to restrict the spending of Europe's top football clubs, should similar regulations be applied to protect non-league football?
More support needed
David Newton, head of integrity at the Football Association - which governs the game from international level to park pitches - feels the problem is overstated.
He points out that Dr Beech's statistics cover 550 non-league clubs compared with just 92 full-time outfits.
"From that context, it's not necessarily demonstrative of a major issue," he says.
He adds that regulations introduced by the FA already go further than just controlling salary costs.
The FA has instigated 450 financial reviews of non-league clubs over the last 10 years, and introduced regulations which prevent any club in the top non-league division, the Blue Square Bet Premier, from buying players while in debt to the tax authorities.
Mr Newton cautions: "I think you have to carefully balance regulation and allowing clubs to have the freedom to run themselves and to operate as they wish in a competitive environment."
Supporters Direct recognises what a huge task it is for the FA to regulate nearly 1,000 officials running non-league football.
"Over the last few years, they have managed to do some good things, but they need to do more of that," says Kevin Rye.
"The sad fact is the people in that department in the FA don't have the level of support they need."
Trouble ahead?
And the problem could be much worse than current statistics suggest, according to Dr John Beech. He believes his research presents a conservative estimate, and it is likely that many more non-league clubs are in financial trouble.
"I do indeed think it could be worse. I have been looking at this very carefully for the last three years, and I am confident I have all the insolvency events for league clubs, because they are fairly well reported.
"However, when you get to the lower divisions, it's sometimes difficult to find out what has actually happened."
And so the debate continues - albeit without any sign that the issue of insolvency is going to disappear any time soon.
Only last week, Rossendale United had to postpone a game because the club failed to pay its water bill, and now faces possible expulsion from the Vodkat (North-West Counties) League.
The club admits that its current situation is "precarious", prompting fears that they could become the 69th addition to Dr Beech's grim league of shame.
You can hear the full 5 live Investigates report on the BBC iPlayer or by downloading the 5 live Investigates podcast.