Taiwan to relax rules on Chinese tech-sector investment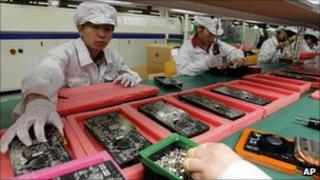 Taiwan is set to ease restrictions on investments from China, a move that could see significant funds injected into its technology sector.
Chinese companies will be allowed to buy a stake of as much as 10% in Taiwanese technology companies, according to a proposal by the Ministry of Economic Affairs.
Investors will also be allowed to hold a 50% stake in new joint ventures.
Taiwan has been keen to protect its market-leading tech firms from rivals.
Protection measures
In 2009, Taiwan opened up 100 sectors to greater Chinese investment.
However, most of those sectors, such as automobiles and plastics, were considered less sensitive than the technology industry.
Taiwan has been very cautious about protecting its chip and liquid-crystal-display manufacturing sector.
It is seen as having a technological edge over many of its Chinese rivals, and there were fears about the ability of its companies to protect their intellectual property rights.
Taiwanese companies, such as TSMC, UMC and Foxconn, are amongst the largest contract chip and electronics makers in the world.
Safe-guarding intellectual property rights is key to their continued success, analysts said.
Win-win
While Taiwan's hi-tech sector has been driving growth in its export-dependent economy, falling prices have started to hurt the industry's profits.
As a result many of Taiwan's manufacturers are now looking for fresh funding to upgrade technology in a bid to reduce their manufacturing costs.
The change in investment policy may help them meet this funding need and allow them to tap up Chinese investors for the cash.
Analysts expect the change to be announced in the next few days.