Hutchison seeks to raise $5.8bn in Singapore ports IPO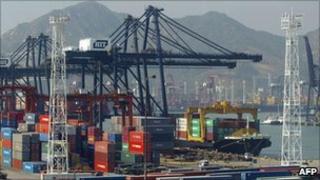 Hutchison Whampoa, the world's largest shipping container terminal operator, is looking to raise $5.8bn (£3.6bn).
The company will sell stakes in its Hutchison Port Holdings Trust (HPH Trust), which operates two of the world's biggest container ports in Hong Kong and Shenzen.
Hutchison Whampoa is controlled by the Hong Kong billionaire Li Ka-shing.
The sale would be the biggest initial public offering executed through Singapore's markets.
"Given the size of HPH Trust, we expect the proposed IPO to attract significant investor interest," said Sean Quek of Credit Suisse.
Among the investors already committed to buying into HPH Trust are Singapore's Temasek Holdings, US hedge fund Paluson & Co, fund manager Capital Research & Management, and Cathay Life Insurance.