Primark warns of 'noticeable' slowdown in UK demand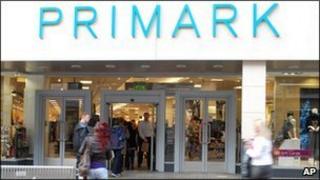 Retailer Primark has revealed a "noticeable" slowing of demand in the UK since the start of 2011.
In a trading update, owner Associated British Foods said Primark performed well before Christmas despite the bad weather.
But January's rise in VAT and soaring cotton prices had helped contribute to the slowdown since then.
ABF shares fell nearly 6%, despite the firm saying that Primark stores in the rest of Europe were doing well.
Their shares closed down 60.5 pence, or 5.89%, at 966.50p.
"The UK consumer is feeling a squeeze because of inflation and the VAT rise, and simply has less to spend," ABF's finance director John Bason said.
"Even for people who don't feel they will lose their jobs, they will feel they are being squeezed. It won't just be Primark, but we'll see it for a number of retailers," he told reporters.
ABF, which also owns brands such as Ovaltine, Ryvita and Twinings, is due to post its interim profit figures in April.
The company said that revenues at Primark would still be about 11% ahead of last year. Growth in stores in continental Europe had been "very encouraging", the company said.
ABF added that all of its businesses would still show that they were "delivering good revenue growth".
Primark operates 214 stores mostly in the UK, although it also trades in the Republic of Ireland, Spain, Germany, Portugal, the Netherlands and Belgium.
But a slowdown at Primark's British stores may have implications for the wider retail sector.
"With more gloomy news from Primark today on High Street trading, we remain cautious in the short term about the general retail sector," said Nick Bubb, analyst at Arden Partners.