House prices: All property types 'dip in value'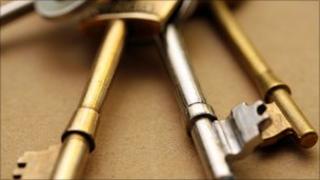 Every property type in England and Wales fell in value in January compared with a year earlier, according to the latest Land Registry figures.
The prices of semi-detached homes fell the most, dropping by 1.6% year-on-year to an average of £153,663.
In general, house prices dipped by 0.9% in January compared with January 2010, but rose 0.2% compared with December.
The figures again showed that there was a notable geographical divide in the direction of house prices.
Properties in London increased by 1.6% in January compared with December, and were up 2.4% compared with the same month a year earlier.
This meant the average home in the capital cost £341,871.
The only other region to register an annual price rise, as well as a month-on-month uplift, was the East of England. Here, prices crept up by 0.2% in January compared with January 2010, leaving the average home in the region worth £174,550.
At the other end of the scale, homes in Wales fell in value by 4.2% in January compared with December, and were down 6.1% year-on-year. The average home in Wales cost £116,217.
Property types
As well as providing regional figures, the Land Registry breaks down house prices to property types.
This showed that, as well as semi-detached properties falling in value, detached homes fell in value by 0.2% in January compared with the same month a year earlier.
Terraced homes fell in value by 0.8%, and flats and maisonettes by 1.3%, over the same period.
The Land Registry's figures are considered to be the most comprehensive of house price surveys, although the publication does lag behind other surveys.
However, these figures strengthen the conclusions drawn from other surveys which have shown that the turn of the year has been sluggish for the housing market.
The number of properties sold in England and Wales was lower towards the end of 2010 than during the same period a year earlier.
And figures on prospective mortgage lending suggest there will be little pick up in activity in the coming months.
New offer
Northern Rock has announced that it is to return to some level of riskier lending by offering mortgages of up to 90% of a property's value for the first time since it was nationalised.
It is offering a two-year fixed rate home loan at 5.99%, a three-year loan at 6.49% and a five-year loan at 6.59%.
This is not the cheapest on the market, but the bank said these products were designed to appeal to potential first-time buyers unable to raise a large deposit.
Prior to nationalisation, the lender was criticised for offering Together mortgages, which allowed customers to borrow up to 125% of the value of a property.