Housing market 'treading water', says Nationwide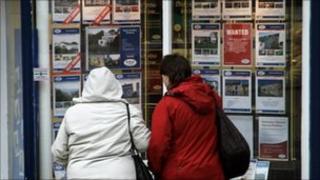 The recent fall in house prices may be slowing down, according to figures from the Nationwide building society.
It said prices had risen slightly in February, by 0.3%, to leave them 0.1% lower than they were a year ago.
It means the average UK house price is now £161,183, the lender said.
The building society described the state of the property market as "treading water" with seasonally adjusted prices more or less flat over the past six months.
"This shouldn't come as too much of a surprise," said the Nationwide's chief economist Robert Gardner.
"Housing market trends are closely linked to wider economic prospects.
"Demand for homes has levelled out, supported by historically low interest rates and some stabilisation in the labour market," he added.
Reluctant sellers
Some economists and commentators have predicted quite a sharp fall in prices this year, possibly by more than 10%.
Mr Gardner took a different view, predicting a continued low level of sales, with prices flat or only "modestly" lower by the end of 2011.
The continued rationing of mortgage funds by lenders is expected to restrict the number of potential buyers and should, in theory, help to undermine prices.
Mr Gardner calculated that someone earning the average salary, and saving 15% of their take-home income, would now take eight years to save enough for the typical 21% deposit on the average house.
But he said that other factors were keeping the number of sellers low.
"Sellers remain reluctant to accept lower prices to secure a sale," Mr Gardner said.
"In fact there are tentative signs that the volume of homes coming onto the market is slowing," he added.
'Shaky ground'
Separately, the Bank of England reported that the number of new mortgages approved for home buyers rose in January after dipping suddenly in December.
They increased to 45,723 in January from 42,719 the month before.
However, that was still below the average monthly figure for the previous six months.
And Richard Sexton of chartered surveyors E.Surv said the revival was probably misleading.
"The bounce in January could merely reflect catch up from a snow-bound December.
"Taken together, January and December were the weakest two months for mortgage approvals since March 2009.
"The housing market is on shaky ground and likely increases in interest rates could be very damaging," he added.
One effect of the shortage of mortgage funds has been to force more people to rent homes instead of buying them.
Matt Hutchinson, of the online letting business Spareroom.co.uk, said: "The rental market is groaning under the strain of too little stock and too many people looking to rent, and the situation is unlikely to improve any time soon.
"People who would normally be looking to buy their first property after renting for a few years are renting for longer as a result."