US tax cut boosts incomes but spending remains flat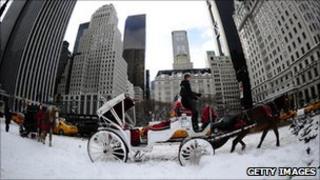 The package of tax cuts agreed by the Obama administration and Republican-controlled Congress helped boost US household incomes by 1% in January.
The surprisingly fast increase is the biggest in nearly two years.
However, taxpayers seemingly chose to save most of the extra money, with personal spending during the month up only 0.2%, below market expectations of a 0.4% rise.
Cold weather may have had a hand, having hurt retail sales that month.
Adjusted for inflation, personal spending - which accounts for about 70% of demand in the US economy - actually fell by 0.1%, according to data from the US Commerce Department.
Meanwhile the 1% growth in incomes beat market expectations of only 0.4%.
Last year's stimulus package cut social security contributions by 2% starting in January, and analysts suggest this is the likely main contributor to the leap in income growth.
However, the month also coincided with the expiry of the "Making Work Pay" tax credit, which might have been expected to reduce incomes.