US pending home sales in January downturn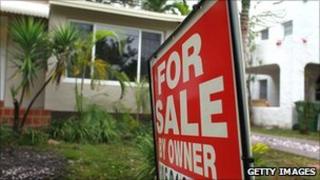 Newly-signed sale contracts - a leading indicator of the US housing market - slowed for a second month in January.
The index of "pending" home sales, published by the National Association of Realtors, fell to 88.9 from a downwardly-revised 91.5 in December.
Markets had expected a fall, but only to a level of 89.5.
Contracts are typically signed near the beginning of a home purchase, and the latest data suggests that completed sales may slow in February and March.
The index has shown a patchy recovery since bottoming out at 75.9 in June last year. A reading of 100 represents a healthy level of market activity.
"We should not expect the recovery to be in a straight upward path - it will zig-zag at times," said Lawrence Yun, the Association's chief economist in presenting the January report.
"While home buyers over the past two years have been exceptionally successful with historically low default rates, there is still an elevated level of shadow inventory of distressed homes from past lending mistakes that need to go through the system."