Populist India budget aims at political reconciliation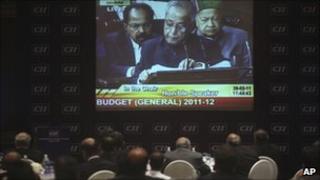 Battered by allegations of corruption and flayed for its inability to check food price inflation, India's coalition government presented a populist, please-all budget on Monday.
It seeks to reconcile market-friendly and socialist groups within the coalition led by the Congress party Prime Minister Manmohan Singh.
Seventy-five-year-old Finance Minister Pranab Mukherjee - a seasoned politician who served in the same position 25 years ago - has sought to please India's middle classes by cutting personal income tax rates, especially for senior citizens.
The flow of federal funds to agriculture, education and the infrastructure has also been increased.
It was no secret that Mr Mukherjee was attempting to refurbish the image of India's government - something acknowledged by the finance minister himself.
'High growth trajectory'
Speaking to India's lower house of parliament, Mr Mukherjee conceded that "certain events" over recent months "may have created an impression of a drift in governance and a gap in public accountability.
"Such an impression is misplaced," he added.
Although the Indian economy continues to grow at an impressive rate - gross domestic product (GDP) is expected to rise from 8.6% during the current fiscal year to around 9.5% in 2011/12 - the government is being attacked by its opponents for its failure to control food prices.
According to official statistics, food price inflation declined from a peak of 20.2% in February 2010 to 9.30% in January. But even this level "remains a concern", the finance minister said.
Prime Minister Manmohan Singh earlier admitted that food price inflation was hurting India's poor the hardest. They spend more than half their income on food; across India at least one-third of individuals live below a government-defined poverty line of barely $1 a day.
The corporate sector reacted favourably to the budget as Mr Mukherjee repeatedly asserted that his budget was aimed at "sustaining a high growth trajectory, making development more inclusive and improving our institutions, public delivery and governance".
The stock market was expecting higher taxes, something that did not materialise.
In fact stock market indices jumped as foreign portfolio investors were allowed to invest in domestic mutual funds registered with the regulatory authority.
Crony capitalism
"The share markets were expecting the budget to withdraw excise duty concessions that were part of the fiscal stimulus package," remarked DC Gupta, who previously served as the top civil servant in India's finance ministry.
"Investors were happy when that did not happen."
Budgets in India are much more than statements of financial accounts of the world's largest democracy. They are important pronouncements on the political economy of the second most-populous nation on the planet and one of the world's fastest growing economies.
Mr Mukherjee's budget speech contained a fair share of homilies and politically correct statements.
For instance, he remarked that "corruption is a problem which we have to fight collectively", but did not detail specific measures to tackle the issue of money-laundering through tax havens.
The finance minister also said in his budget speech that the government would have to "reconcile ecological concerns with development aspirations", while the prime minister later added that one of the principal aims of the budget was to dampen inflationary expectations while continuing with policies aimed at fiscal consolidation.
The politician in Mr Mukherjee seemed to take precedence over the economist when he announced generous government grants for educational institutions in the states of Tamil Nadu, West Bengal (to which he belongs) and Kerala. Elections are scheduled to take place in the three states by the end of May.
Though the middle classes are in general happy with the budget and senior citizens have been promised general concessions on payment of personal income tax, the fact is that barely 3% of India's population of 1.2billion pays income tax.
The Annual Economic Survey released by the finance ministry on Friday conceded that the poor had been hurt by food price inflation.
But it also exulted over the fact that India had been able to escape the worst ravages of the worldwide recession and had bounced back quickly to a high growth path.
As for the future, Mr Mukherjee has optimistically assumed buoyant tax collections and low inflation in the coming months.
Time will tell whether those predictions are grounded in reality.
The author is a leading analyst on the Indian economy