Juventus football club suffers 39m euros loss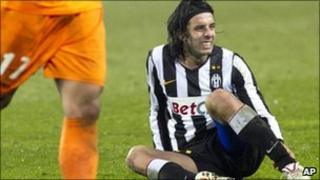 Italian football giant Juventus lost 39.5m euros (£33.5m) in the first half of the 2010/11 season, compared with a 14.2m euros profit a year earlier.
Revenue for the period was 88.8m euros, down 29% on the 125m euros figure in the same period 12 months before.
The club's revenues have been hit by only competing in the Europa League, rather than the Champions League.
It has also been affected by changes to the way Italian clubs share money from television rights.
The board of the Turin-based club said it was predicting "a significant loss" for the 27-times Serie A champions between now and the end of the season.
The club is seventh at the moment in Serie A, seven points outside the Champions League qualification spots.
'Confident'
"Economic trends in the 2010/11 financial year were negatively influenced by the club's failure to qualify for the UEFA Champions League, implying lower revenues from European competitions and lower commercial revenue, as well as the effects stemming from the regulations of the centralised sale of [Italian] television rights coming into force," the club said in a statement.
"Accordingly, on the basis of the information currently available and in the absence of any extraordinary events, the 2010/11 financial year is expected to close with a significant loss.
"Nonetheless, the company is confident it has the resources necessary to tackle the negative trend of the current financial year."
Libyan leader Muammar Gaddafi's Libyan Arab Foreign Investment Company SA, or Lafico, owns a 7.5% stake in the club.
However, the future of this stake has been clouded in uncertainty in the past week.