Egyptian stock exchange reopening delayed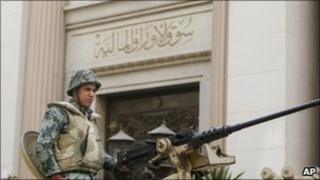 The reopening of the Egyptian stock exchange has been delayed to refine ways to support small investors caught out by collapsing share prices.
Trading had been expected to resume on Tuesday, but the exchange is now due to reopen on Sunday, 6 March.
The exchange has been closed for more than a month in the wake of anti-government protests.
Trading was suspended on 27 January after the benchmark index saw big falls amid concerns about the unrest.
If the index falls by 6% or more then trading is halted for the session.
'No manipulating'
In a statement, the Egyptian exchange said it had delayed the reopening "in order to give all market investors the opportunity to check all disclosures sent from all listed companies as well as letting the investors with suspended codes to update their data".
Some investors have demanded that trades made on the last two days of business on 26 and 27 January - when shares tumbled - should be cancelled.
About 100 investors demonstrated in front of the Cairo stock exchange on Sunday.
But the head of the exchange has rejected the calls.
"The public prosecutor has assured that there was no manipulating in the last week of trading [on the Egyptian bourse]," Khaled Serry Seyam said.
'Strong reaction'
Meanwhile, shares in Saudi Arabia fell 6.8% on Tuesday as the Tadawul All-Shares Index dropped to a 20-month low.
Saudi economist Ali al-Dakkak said the political unrest gripping several countries in the Middle East and the failure to reopen the Egyptian stock exchange was behind the fall.
"It is a strong reaction to the events in the Arab world... Investors were awaiting the reopening of the Egyptian bourse and reacted negatively when it did not," he told the AFP news agency.
He added that Saudi Arabia has investments worth about $110bn (£67.5bn) in Egypt.
Tuesday's losses means the Saudi bourse has now dropped for 12 consecutive sessions.