BA crew's strike ballot to begin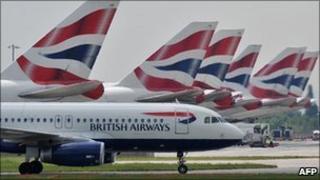 Cabin crew at British Airways are to be balloted again over whether to take industrial action.
The Unite union is rerunning a ballot which had been held before Christmas, because the the airline challenged the legality of the voting process.
It will be the fourth such ballot among BA cabin crew in the past two years.
The row began about cost cutting but now centres on travel concessions taken from striking staff and disciplinary action against Unite union members.
The union's last three ballots have all been challenged by BA on technicalities, but the union will be hoping this time it observes the precise letter of the law and so avoid yet another contested outcome.
Another yes vote would allow the union to call a strike over Easter, but union sources are playing down the prospect of any walk out in April.
BA has already claimed that in the event of strike, it will run all long haul and many short haul flights.
Disciplinary action
Its new chief executive Keith Williams also has written to cabin crew saying he want a positive relationship with them
The outcome of this vote will indicate whether they are in turn prepared to make a fresh start.
The ballot will open on 1 March and close on 28 March, with the decision to be announced soon afterwards.
The dispute started in November 2009, when BA reduced the number of cabin crew on some long-haul flights from 15 to 14, and introduced a two-year pay freeze from 2010.
This led to a series of strikes in the spring and summer of last year.
Following these strikes, BA removed the travel concessions of those who took part, with some also facing disciplinary action.
It is this action by BA that is now central to the dispute, Unite says.
It wants the restoration of travel perks in full, arbitration through Acas of all cabin crew disciplinary cases related to the dispute, and restoration of pay to those who were genuinely sick during the dispute.
It also wants a full discussion about how BA has handled industrial relations within the company.