Hyundai i40 targets company car market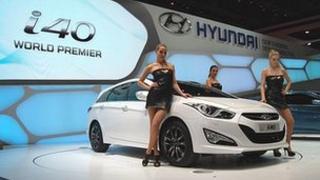 Flanked by scantily clad girls on the stand at the Geneva motor show, the Hyundai i40's venture into a world dominated by experienced professionals might come across as naive.
After all, there are no such frills on the stands of chief competitors such as Ford, Opel - Vauxhall in the UK - or Volkswagen, whose motorway warriors have held a tight grip on the fleet market for decades.
"The fleet market is crowded by a lot of successful cars such as the Mondeo, Insignia or Passat," grins Hyundai's European chief operating officer Allan Rushforth, the bit between his teeth.
Mr Rushforth's determination puts a lie to the light-weight performance on stage.
For behind the Korean carmaker's tottering high-heeled approach, there's a perfectly grown-up strategy that has caught the eye of, even spooked, established rivals.
'Right vehicles, right time'
Last year, car sales in the European Union fell 5.5%. Hyundai, meanwhile saw sales rise 4.4%, with its Korean alliance partner Kia gaining similarly with a 3.9% rise in market share.
Hence in Europe, Hyundai and its Korean alliance partner Kia have between them already overtaken Toyota - even without a car that appeals to company car drivers.
"We're a predominantly retail-oriented manufacturer at the moment," Mr Rushforth says.
Which is why, during a period when carmakers that relied heavily on sales to company car drivers were suffering, Hyundai rode the economic downturn with its i-series of small cars.
Its small and fuel-efficient i10, i20 and i30 models gained popularity thanks to scrappage schemes that saw European governments pay people to trade in old wrecks for new cars.
In addition, Hyundai rode a crossover wave that saw customers flock towards cars that combine the high riding position and ground clearance of rugged 4x4 cars with the fuel economy and driveability of ordinary cars.
Its ultra-modern ix35 was particularly successful in this market, Mr Rushforth says.
"We set out to sell 50,000 and we took more than 100,000 orders last year," he says.
Designed in Europe
The secret to Hyundai's growth has nothing to do with clever marketing, Mr Rushforth insists.
Instead, he says, "we've had the right vehicles at the right time".
"We've achieved critical mass with the i-range and that visibility has momentum of its own, and if we can improve the awareness of our brand and our product, we can grow even more," he believes.
This is where the i40 comes in.
The car has been designed in Russelheim, just outside Frankfurt in Germany, and it is aimed squarely at company car buyers in Europe.
"It takes us into a segment of the market that is the home ground for many European manufacturers," he says.
"It is important for us, not just in terms of volume, but also brand credentials."
Private sector growth
Having already seen its sales rise to some 360,000 cars last year, thus raising its market share from 1.8% in 2008 to 2.6% last year, Hyundai is gunning for 3% this year and a hefty 5% by 2015.
The i40 will be a major engine for growth as the private sector recovers towards the end of 2011, and starts buying cars again, predicts Mr Rushforth.
"Again, our new models are coming at the right time," he says, declining to comment on whether this has been by accident as much as by design.
"We're designing cars with the European consumer in mind and we're increasingly producing cars in Europe," he says, referring to factories in the Czech Republic, Slovakia and Turkey.
Democratic luxury
Beyond bolstering sales, Hyundai is also aiming to boost profits as it pushes into new market segments.
"There's a common misconception that fleet equals lower profit margins, but it doesn't necessarily have to be the case," says Mr Rushforth, pointing out that "bigger cars have bigger margins".
Besides, he continues, "it's regular business, repetitive business".
Once the company car market has been conquered, Hyundai will be eyeing the elusive luxury segment, where profit margins are the highest.
Its cars are already considerably more refined than they were in the past and given time it might well start giving more upmarket players a run for their money.
"We may not be the first to the market with technology and luxury," says Mr Rushforth.
"But we offer it to a broader market in a more contemporary way than the leading German brands.
"We call it inclusive premium and we aim to democratise luxury for the masses."