Credit card interest rates still rising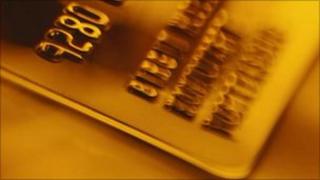 The average interest rate charged on a credit card has risen again, to 16.79%, says the Bank of England.
That puts the average rate at its highest level since February 2002, although the Bank rate remains at its historic low of 0.5%.
However, other figures from the Bank of England reveal that banks are still writing off huge losses on their credit card customers.
The Bank said that £5.3bn was written-off in 2010.
"Write-offs probably reflect historic lending on cards," said David Black of financial analysts Defaqto.
"In recent years card companies have been much more careful about who they will lend to, in terms of affordability and over-indebtedness."
With defaults by customers running at approximately 10% of all credit card lending, card companies have used wider profit margins to offset the losses they have been racking up.
In the 1990s, write-offs were at low levels, ranging from just £138m in 1995 to £490m in 1999.
But as credit card spending boomed, and the nation's personal debt rose to almost £1.5 trillion, card write-offs started to rise rapidly.
They reached £3.2bn in 2008, £4.1bn in 2009 and £5.3bn last year.
In January, accountancy firm PricewaterhouseCoopers predicted that interest rates on unsecured lending, such as credit cards, would rise by 2%-3% in the next three years.
It said this would add £1,800 a year by 2015 to a typical household's credit card and loan costs.
The UK Cards Association said: "The 2010 figures primarily relate to business that was written at the time when recessionary pressures were at their highest and pre-date the tightening of lending criteria for credit card issuers."