Eurozone to consider closer economic scrutiny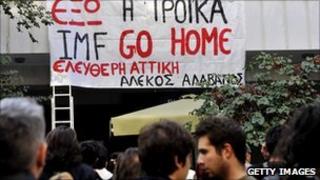 Eurozone countries could get a far greater say in each others' economic policies, according to draft documents seen by the BBC.
They would also have to make "concrete commitments" on economic targets, which would be reviewed every year.
These moves, and a closer co-ordination of fiscal measures, will be discussed later this month at a meeting of eurozone leaders, the papers suggest.
The proposals are part of plans to try to improve confidence in the euro.
If agreed, the measures would overhaul the existing rules on economic policy, which includes an obligation to keep budget deficits below 3% of GDP.
This was part of the 1999 Stability and Growth Pact, but many countries, including Greece, Spain and the Republic of Ireland, have deficits currently well above that threshold.
This new agreement would bind governments to measurable targets subject to annual reviews, although there is no mention of sanctions in the draft seen by the BBC.
New pact
A key meeting of leaders on 11 March in Brussels will discuss a "shift to a higher level of policy co-ordination" and for "concrete commitments" in economic policies, according to the draft documents.
The document being circulated by the EU Council President Herman Van Rompuy among eurozone governments is provisionally called a pact and suggests that members would each have a say in each others' major economic policies before they are brought in.  
"The objective of the 'pact' is to deepen the economic pillar of the monetary union by fostering convergence among the economies of the euro area," the document says.
The pact aims to foster employment and avoid what it calls "economic imbalances".  
It is hoped that policies which might cause the kind of problems seen in Greece or the Republic of Ireland might be nipped in the bud and prevent the need for further bail-outs.
But countries would not be able to veto each others' budgetary plans in their entirety, a source said.
The eurozone crisis, which has seen government borrowing costs soar in weaker countries and confidence in the long-term future of the single currency plummet, began in late 2009 when it emerged that Greece would not be able to meet its day-to-day spending needs and would need a bail-out from the IMF and fellow eurozone members to avoid a default.
That was followed six months later when the Irish Republic also turned to its neighbours for multi-billion euro loans. Portugal and Spain are hoping to avoid a similar fate.
Leaders from the 17 countries which use the euro, hope to draw a line under the ongoing crisis by agreeing new tighter rules to prevent the next one.
Tax harmonisation?
Eurozone members are being urged to move away from dependency on direct taxation such as income taxes and more towards indirect taxes such as VAT and stamp duties.  
The document also calls for members to link pensions to life expectancy - a move which would cause alarm in Greece, Poland and France as their public sector workers mostly retire before turning 60.
It also mentions a proposal for a Common Consolidated Corporation Tax Base or CCCTB.  
This proposal could see the profits earned by a multi-national company shared proportionately among member states according to how much of it was earned in each EU country.
Some observers have suggested that this is a move towards harmonised corporation tax, but EU officials deny this.
That part of the document will be of interest to the incoming government in Dublin, as the Republic has faced pressure from other European countries to raise its comparatively low corporation tax rate.
The Republic of Ireland attracts a large share of EU foreign direct investment (FDI) due to its 12.5% flat rate of tax on profits.
This is as much as a third in many other EU countries. The UK charges 28% at the moment.
Some eurozone members, such as France, felt that it should increase that in return for the bail-out it received.
Under the draft seen by the BBC, the UK could also have a much larger say in future over the internal machinations of eurozone members.  
Non-euro area countries including the UK and Sweden will be invited to participate in the pact on a voluntary basis.  
The UK is to lend £7bn directly to the Irish Republic on top of the 67.5bn euros (£57.3bn) being loaned to it by the IMF and EU.