Petrol price hits record average 130p per litre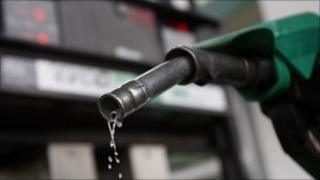 The price of unleaded petrol has hit a new record average of 130p per litre, according to industry analysts Experian Catalist.
Oil prices have risen about 10% in the past month due to the uprising in Libya, a major oil exporter.
That has also led tour operator Thomas Cook to introduce a new fuel surcharge to the cost of its holidays.
For short-haul flights the extra levy is £15 per holiday, rising to £40 for long-haul.
'Hitting budgets'
The average price of petrol has risen by nearly 6 pence per litre since the end of last year. It has increased due to rises in VAT, fuel duty and the wholesale price of oil.
Experian Catalist said the price of unleaded petrol had risen sharply over the last few days, increasing by 0.8 pence since Thursday.
The average price of diesel has also risen, and is now at 135.44p per litre.
The RAC Foundation, which also monitors prices, predicted that the price of unleaded petrol would continue to rise for some time.
"It would be no surprise if prices increase by another 8p a litre in the near future," said RAC motoring strategist, Adrian Tink.
"This kind of rise will seriously impact on people's car use, many of whom having no other option but to travel by car.
"These escalating prices are hitting family budgets hard at a difficult economic time," he added.
The RAC called on the government to scrap a planned 1p per litre rise in fuel duty, due to take effect in April.
Chancellor George Osborne indicated recently that the government was considering cancelling it.
Flying high
Thomas Cook's new surcharge will apply to all bookings that include a Thomas Cook flight made from Tuesday onwards.
The company blames a 40% increase in the cost of fuel for the move.
The surcharge applies to both flight-only or package holidays, and applies whether the trip is booked through a travel agency or directly with Thomas Cook itself.
Surcharges will apply to all charter brands including Thomas Cook, Airtours, Sunset, Manos, Club 18-30 and Neilson.
A spokesman for the company, Ian Ailles, said: "We've worked hard to keep the impact of the rising fuel costs on our holidaymakers to a minimum but the fuel levy is an unavoidable result of the rising price of oil."
Inflation pressures
Recent sharp rises in commodity prices have been an important factor contributing to the rising rate of inflation in the UK and creating uncertainty for interest rate policymakers.
Speaking to MPs on the Treasury Committee, Bank of England governor Mervyn King said oil prices had risen much faster than the Bank had assumed in last month's quarterly inflation report.
"Oil prices have risen by a third since November, half of the rise had taken place by February, that was clearly factored into our projections," Mr King said.
"Clearly it's risen since. An awful lot will hinge on how far this rise in oil prices persists, whether the situation in the Middle East becomes clarified and it falls back again."
Mr King and Monetary Policy Committee colleague Martin Weale said they were watching inflation expectations closely.
This is crucial because if people think inflation will persist, they ask for higher wage settlements to compensate, further fuelling inflation.
"Looking at the prospects for next year I think it's fair to say I'm more worried than other members that these sort of expectations may get built into the wage bargaining, price setting process," Mr Weale said.