Rolls-Royce launches electric car at Geneva motor show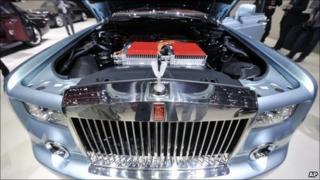 Rolls-Royce has unveiled an electric Phantom at the Geneva motor show.
It is a one-off, an attempt to both test and change consumer habits rather than a test of technology, according to the carmaker's boss.
"It is a market research project," chief executive Torsten Muller-Otvos told BBC News.
The experimental car also aims to change customers' attitudes by making them aware that even ultra-luxury cars will have to move with the times.
"We can't use 12-cylinder engines for ever," Mr Muller-Otvos said.
Rival responses
Rivals at Bentley and Daimler-owned brand Maybach watched the unveiling of the electric luxury car with great interest.
Bentley's chief executive Wolfgang Durheimer told BBC News that the Crewe-based carmaker would "conduct a deep evaluation of future power trains".
"Electrification and hybridisation were among the key technologies I introduced at Porsche and I think there is potential for these technologies in Bentleys too," he said.
Dieter Zetsche, chief executive Daimler, told BBC News there was no demand for electric Maybachs so it would not follow suit.
"The number of ultra-luxurious cars being made is already very low, so it would be far too costly to introduce a wide choice of engines and other power train solutions," he said.
Attractive research programme
The electric Rolls-Royce uses "tried and tested electric technology", Mr Muller-Otvos said.
Though unlike most electric cars, it does not require owners to plug it in every day.
Instead, the car uses an inductive charging system, with a panel fixed under the car connecting remotely to a panel on the garage floor.
"We will now travel around the world with it to ask our customers what they think about it," Mr Muller-Otvos said.
"You can't do normal market research with our customers. You've got to create an environment that makes it attractive for them to attend."