Tote will keep its profits split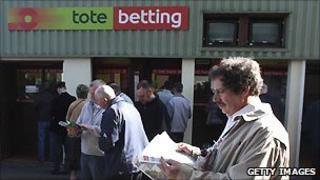 The Tote, the government-owned bookmaker will continue to split its profits equally with the taxpayer after it is sold, the government has said.
It was set up 83 years ago to provide racecourse punters with alternatives to illegal bookmakers and ensure money went back into the sport.
It currently injects half its profits into racing.
But there were calls in the Commons for the dividend to be increased when the coalition sells the Tote.
The Tote, based in Wigan with more than 4,000 staff, is likely to be sold later this year.
Junior heritage minister John Penrose said: "There have been various comments that 50% isn't enough and it ought to be 100% of the proceeds going to racing - but that isn't where we are."
Last year, Chancellor George Osborne promised to secure value for taxpayers while recognising the support the Tote gave to the industry, he said.
Mr Penrose added: "Given the state of the national finances, it's going to be extremely hard - in fact, completely impossible - to argue we should be doing more than a 50-50 split."
'Friendly face'
Conservative Laurence Robertson who secured the adjournment debate, told the Commons the Tote gave almost £19m to horse racing in 2010.
He said: "That money is absolutely crucial to racing. The Tote is an institution and provides the friendly face of bookmaking.
"It would be wrong for the government to do anything with the Tote that would deprive racing of its annual income."
Efforts over the past three years to sell off the Tote hit problems, and the government faces getting a lower price than the £400m mooted in 2007.
The Jockey Club opposes the sale and wants the Tote to remain independent.
Betfred confirmed it is one of the operators hoping to take over the Tote.
Other potential buyers could include Paddy Power, Gala Coral, Sportech, South African Tote, and France's PMU.
The Tote has 517 High Street betting shops and the monopoly to run pool betting online and at 60 racecourses in the UK.
Financial adviser Lazard is handling the bidding process on behalf of the government, but would not say how many expressions of interest had been put forward.