S Korea inflation jumps in February to a 27-month high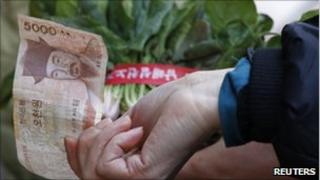 South Korea's inflation rate has hit a 27-month high in February, driven by rising food and fuel costs.
The consumer price index rose by 4.5% in February, compared with the same month a year earlier, the statistical office said.
That is more than the central bank's maximum target of 4%.
Analysts said they expect the higher-than-forecast inflation will prompt the central bank to raise interest rates.
"In terms of economic indicators, the Bank of Korea has to raise interest rates this month," said Goh You-sun of Daewoo Securities.
However, he added that the central bank may find itself in a difficult position because of government concerns over the impact of high oil prices on South Korea's economic growth.
Over the past month oil prices have surged amid unrest in the crude-producing nations of the Middle East and North Africa.
Mr Goh said that this issue may overshadow the central bank's rate-setting meeting scheduled for next week.
"The government may emphasise the Middle East turmoil as a threat to the economy, and if so, it will put the central bank in a difficult position in reviewing its policy," the analyst added.