Adidas reports record sales after World Cup boost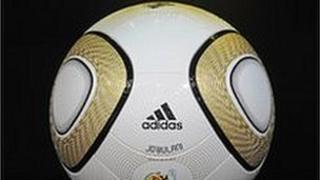 Adidas, the world's second largest sporting goods company says it made record sales last year and is in "fantastic" shape.
Sales rose 9% to 12bn euros (£10.2bn; $16.4bn) for 2010, and net income more than doubled to 567m euros.
The bounce back in income was helped by the World Cup and an improved economy in 2010.
Adidas was able to keep profit margins and prices higher for longer and made fewer discounts.
Adidas said sales of the brand rose 10%, while its other key brand Reebok recorded a 15% increase in sales, with growth in all regions.
Herbert Hainer, Adidas Group's chief executive, said it had been an excellent year for the business.
"Not only did we meet, but we beat all our initial expectations for the year," he said.
"We outgrew our major competitors, achieving record sales of 12bn euros. Therefore, I am proud to report that our group is in fantastic shape."