National Lottery terminals blocked on bill payments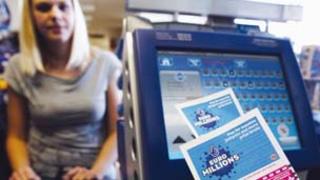 National Lottery operator Camelot has been refused permission to allow consumers to use its terminals to pay bills or top up mobile phones.
The National Lottery Commission (NLC) said it had "serious concerns" about EU competition law if Camelot were to use terminals for "ancillary activities".
Competitors had argued Camelot would have had an unfair advantage.
The decision was described as "bewildering" by Camelot, which had wanted to update 17,000 terminals.
Legal question
Mark Harris, chief executive of the NLC, accepted that - if given the go-ahead - the changes would have generated more business through the terminals and so more income for good causes. Camelot estimated it would generate an extra £5m a year for charities and community causes.
However, Mr Harris said this was a complex area of law and the Commission needed to ensure it was not breaking these competition rules.
"The Commission is here to protect the long-term propriety of the National Lottery and the £1.6bn it raises annually for good causes," he said.
"We cannot, as a public body, consent to the proposal that is before us when doing so may place us in breach of European competition law."
Competition
Camelot, which had hoped to add the services to as many as 17,000 terminals in shops in an attempt to increase revenues, said the decision was "inconsistent" with its own legal advice.
"This is a bewildering decision and without precedent in EU history when you consider that all over Europe other lottery operators offer these services to support their retailers," said Paul Charmatz, managing director of commercial services.
Camelot suggested that it might challenge the decision.
"Camelot will now carefully consider its options, but its commercial services team remains confident that it will enter the commercial services business in due course," the company said.
The decision was welcomed by potential competitors in the payment services sector.
Dominic Taylor, chief executive of PayPoint, which runs bill payment terminals and ATM machines, said: "It would be entirely wrong for Camelot to be allowed to exploit its position as Lottery monopolist and spread its resources to offer unrelated commercial services.
"We are pleased that the National Lottery Commission has accepted the compelling arguments that the proposal was undesirable and contrary to the public interest.
PayPoint's shares ended the day 18% higher following the ruling.
Epay, which provides mobile phone top-up services, said: "Fair competition is in the customer's interest, the retailer's interest and of course in the interests of companies like epay who are already in this market place."