Whitbread buys Coffee Nation vending machines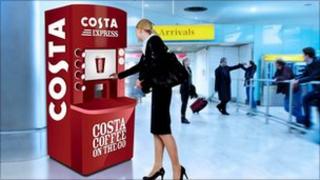 Hotel and restaurant group Whitbread has bought the Coffee Nation brand with a view to launching self-service coffee machines under the name Costa Express.
Whitbread, which already owns Costa Coffee, is paying £59.5m for the brand, which operates 900 coffee machines.
The group said it would aim to open 3,000 Costa Express vending machines across the UK over the next five years.
However, Whitbread shares fell 5.2% after it reported slower sales growth at its Premier Inn hotel chain.
Sales at hotels which have been open for more than a year grew by 5.1% in the quarter to 17 February, compared with a year earlier. During the previous quarter, sales had grown by 8.7%.
For the Whitbread group as a whole, like-for-like sales rose by 3.9% against a year earlier. Total group sales rose 12.4%.
"Our businesses have traded well during the tough recessionary period and we're confident that we will continue to deliver a good relative performance," said Whitbread chief executive Andy Harrison. Harrison.
But he warned that the group was "expecting a continuation of the difficult consumer environment that we saw last year".
New market
Whitbread said Coffee Nation "self-serve bars" were "fundamentally different" from traditional hot drink vending machines because they used fresh milk and freshly-ground coffee.
"Customers increasingly want great tasting coffee on the go, which makes the self-serve coffee market very attractive," said Mr Harrison.
Costa Coffee has 1,850 outlets around the world, with 1,200 in the UK.
Whitbread also owns the Premier Inn hotel chain and Beefeater restaurants.