Standard Chartered profits boosted by emerging markets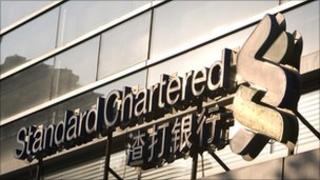 Standard Chartered bank has announced a 19% rise in annual profits, and said it has had a record start to 2011.
Pre-tax profits for 2010 came in at $6.1bn (£3.7bn), up from $5.1bn the previous year.
The bank said most of its markets across Asia, Africa and the Middle East had returned to strong economic growth.
The bank said the size of its bonus pool had "increased modestly" to $1.19bn in 2010 from $1.1bn in 2009.
Total staff costs rose 17% after the bank took on 7,000 new staff last year - increasing its workforce by 9% - and had to pay top dollar for some individuals.
"We are seeing the war for talent across most of our markets in Asia, Africa and the Middle East, and it is very acute in India and China where a quarter of our staff are based," chief executive Peter Sands told reporters on a conference call.
Standard Chartered is based in London but more than four-fifths of its profits comes from Asia and other emerging economies.
Confident of growth
Profits in the Middle East doubled last year, and Mr Sands said he did not expect political unrest in the region to have a negative impact on the bank.
"[This profit] is not really under threat - we still see substantial opportunities for growth in the Middle East. Much of the turmoil is happening in North Africa and we are not present in North Africa," he told BBC Radio 4's Today programme.
He was also confident that the Chinese market would keep growing.
"The underlying drivers of growth in China are extremely resilient," he said. "There is a risk of bubbles within China, in property prices for example, but do I think China itself is a bubble? No."
'Polarised recovery'
Standard Chartered said it lent more last year, with total lending rising by nearly $45bn or 22%.
Mortgage lending rose by 23% to $71bn, while lending to small and medium-sized businesses was up 32% to nearly $18bn.
While the bank said its Asian market was growing strongly, it said the West still faced a "deleveraging challenge", and the company remained "relatively cautious" about the outlook for the world economy this year.
"We're certainly in a global recovery but it's a very polarised recovery and vulnerable to shocks," the bank said.
It warned that the biggest external challenge it faces is regulation, with different changes being applied by different national regulators.
"Rather than seeing increasingly global co-ordination and consistency of regulation, we are seeing increased fragmentation and unilateral action."
It added that the full implementation of the bank levy in the UK would cost it about $180m after tax this year.