Loan 'scam' criticised by Citizens Advice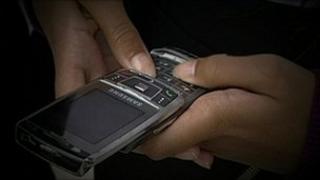 Unscrupulous credit businesses are cashing in on people's desperation for loans during tough economic times, a charity has said.
Fraudsters are making unsolicited offers to find loans for people before charging them hefty up-front fees, Citizens Advice said.
Loans often failed to materialise and victims were then charged a premium rate when calling to complain.
Citizens Advice has called on the fair trading regulator to intervene.
It has submitted a super-complaint to the Office of Fair Trading (OFT). The regulator now has to give a response within 90 days.
If the OFT thinks there is a case to answer, then it can decide to launch a full investigation in its own right.
Cold-calling
Citizens Advice said that current economic conditions provided "fertile ground" for rogue credit businesses, with many households facing financial difficulties.
The charity said it had spoken to people in England, Wales and Scotland who had been ripped off.
They had received a text message or telephone call from a firm offering to find them an unsecured loan.
Those who accepted were then charged large up-front fees for little or no service in return.
Other victims were persuaded to hand over their bank details and later found that money had been taken from their account without their permission.
Victims struggled to complain, and found that, instead, they were being inundated by calls and text messages offering loans or debt management services from other firms.
'Naive'
One of those people was Yvonne Weekes, from Cornwall, who was contacted after filling in a survey online.
She agreed to a £500 loan from a "persuasive and pleasant" saleswoman and handed over her bank details for the £67 fee charged for the loan.
"I went into the bank and the £67 had been taken out of my account but, of course, I did not get the loan - it never came through," she said.
"I could not believe that I was so naive."
She called at least 20 times to complain but never got through. Instead she said she received 60 calls from other loans companies after her details were sold on.
"It is very, very stressful. Not only have you not got the money you applied for but you are getting harassed by people, some of whom are very, very clever," she said.
Citizens Advice wants the OFT to ban cold-calling by credit or debt management companies, as well as an end to these companies demanding up-front fees.
"This problem is set to grow much worse," said Gillian Guy, chief executive of Citizens Advice in England and Wales.
"The framework of consumer protection about unsolicited marketing and up-front fees charged by credit brokers is not only complex, but loopholes give too much room for bad practice to flourish.
"We believe that the Consumer Credit Act and data protection legislation need to be urgently updated to tackle these problems at root cause."
Cases
The Association of Business Recovery Professionals represents legitimate debt management companies, and called for the OFT to step up regulation of the industry.
"It is extremely important that those who are financially vulnerable are given the correct advice and use the most appropriate debt solution so that they are able to resolve their finances as quickly as possible," said the association's president Steven Law.
The financial ombudsman service received 6,329 complaints about consumer credit in the last financial year, an increase of 110% on the previous year.
Complaints have continued to grow since, although not all cases were found in the customers' favour.