Welcome Finance claims taken over by FSCS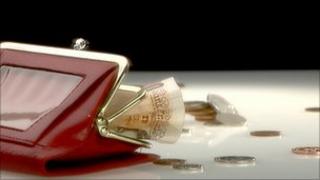 The Financial Services Compensation Scheme (FSCS) is taking over claims against Welcome Finance for mis-selling payment protection insurance (PPI).
The FSCS said Welcome Finance, part of the Cattles group, was effectively insolvent.
Cattles has specialised in lending small amounts of money to people who cannot borrow elsewhere.
It has been bought by a specially-created company called Bovess after a two-year financial cisis.
Welcome Finance, which has sold 500,000 PPI policies but will not be able to meet any claims against it, has already been closed to new business.
The two other parts of the Cattles group, Shopacheck and the Lewis debt collection firm, are now profitable and are also now under the control of Bovess.
"Today's announcement paves the way for the FSCS to compensate consumers who were mis-sold PPI policies by Welcome Finance on or after 14 January 2005," said FSCS chief executive Mark Neale.
"The FSCS will be making arrangements to contact all policyholders and will work as quickly as possible to process any claims received," he added.
Claims
About 380,000 people have taken out PPI polices while borrowing from Welcome Finance and some have already claimed and been compensated.
The remainder, if they make a valid claim, will receive 90% of any financial loss they may have suffered, such as paying premiums on policies which were mis-sold.
The FSCS said under this arrangement customers could expect to receive any compensation much faster than if Welcome Finance had gone into a formal insolvency procedure such as administration.
And the FSCS stressed that it would be in control of any payments.
"Policyholders can be assured that the FSCS will remain responsible for all decisions on claims, which will be made in accordance with FSCS rules, and that the FSCS will closely monitor and oversee all steps in the handling of claims."
Cattles was plunged into financial difficulty in 2009 when accounting irregularities were uncovered.
It was eventually revealed that the company had suffered a pre-tax loss in 2008 of £745m.
By the end of 2009 the company's debts outweighed its assets to the tune of £1.1bn.