Portugal debt ratings under review by Standard & Poor's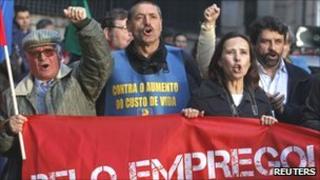 Standard & Poor's (S&P) says it expects Portugal's economy to shrink 2% this year and is reviewing its debt ratings.
"We see the government as having made little progress on any growth-enhancing reforms," said the rating agency.
The rating agency expects to make a decision about any downgrade in the next three months.
S&P also hinted that the new eurozone bail-out fund being discussed may actually worsen Portugal's creditworthiness.
The agency said that Lisbon would probably have to repay any rescue loans ahead of its other debts from private creditors. This would make these other debts more risky.
The eurozone's new European Stability Mechanism (ESM) is a permanent bail-out fund that will replace the existing temporary facility - which has already been used to rescue the Irish Republic - after 2013.
"It is our understanding that the ESM may be designed to rank ahead of private creditors in any future debt restructurings," noted S&P.
By implication, those private creditors - including investors in Portuguese bonds - would have to take all the losses from any debt default.
'Structural rigidities'
S&P suggested that Portugal may be vulnerable to a sudden flight of lenders as 54% of its debts are currently owned by non-residents.
If Lisbon improves its deficit unexpectedly in that time-frame, or passes "growth-enhancing reforms", S&P said it was less likely to cut its ratings.
The Portuguese government projects growth of only 0.2% this year in its 2011 budget, although this is much more optimistic than S&P's prediction.
However, the government's forecast is predicated on a 7% jump in exports.
The rating agency expressed particular concern about the Portuguese government's failure to make progress with labour market reforms, citing "structural rigidities" that may render the country's economy uncompetitive in a volatile global environment.
The country's unemployment rate is currently 11.1%, up from 4.8% when Portugal joined the euro in 1999.
S&P currently gives Portugal an investment grade A- rating - the same as for Poland and the Irish Republic.
S&P's announcement that it was reviewing Portugal's debt rating did not have any noticeable effect on the value of the country's government bonds.