Nissan aims to overtake rival Toyota in Europe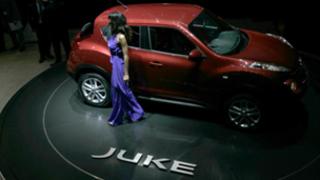 Nissan is planning to open 400 new dealerships in Europe over the next three years, in addition to 600 opened during the last five years.
Combined with a slew of new models, the company hopes this will help it overtake Japanese rival Toyota.
"Our ambition is to... eventually become the number one Japanese brand in Europe," Simon Thomas, head of sales and marketing in Europe, told BBC News.
During the last two years, Nissan has launched 10 new models.
"We've got one of the youngest ranges of any brand in Europe," said Mr Thomas.
"We also have the widest product range in Europe. We are represented in more segments than any other brand in Europe with 24 products."
Crossover sales
Last year, Nissan had a 3.1% market share. During the first two months of this year, that rose to about 3.5%, helped by strong and growing sales of its Qashqai crossover and healthy demand for its smaller Juke.
"That's the kind of level we think we can achieve for the rest of this year," said Mr Thomas.
In Europe, Nissan sells one-in-four crossovers, which combine the high ride of 4x4s with the fuel economy and driving style of ordinary cars.
And although more and more rivals are piling in, the company predicts that the crossover segment will continue to grow.
"Our long-term ambition is to reach a 5% market share."
'Sustainable growth'
Nissan's brave talk has done little to rattle the world's largest carmaker Toyota, however.
"Everybody's got very ambitious targets," said Didier Leroy, president of Toyota Motor Europe.
"But we expect our sales to rise 10% this year. Every single month since September we've beaten our sales targets in Europe."
Toyota is slowly recovering from the damage caused by mass recalls of cars during 2010, backed by a broader range of petrol-electric hybrid cars.
"We want to develop sustainable growth in Europe," Mr Leroy said.
"We're not rushing for market share. We're not rushing for volume. We want to do it in a profitable way."