India and Asean aim to boost trade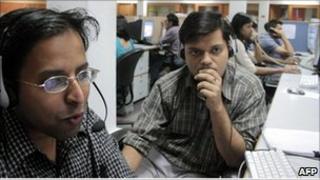 India and the Association of South-east Asian Nations (Asean) want to grow trade by 40% over the next two years.
Anand Sharma, India's commerce minister, said the two sides were committed to achieving a target of $70bn by 2012.
Trade between the two sides was $50bn in 2010.
The move comes at a time when India is looking to increase its trade in the region as demand from US and Europe slows down.
India is hosting the first India-Asean business fair as part of its move to strengthen relations between the two sides.
Comprehensive partnership
India and the 10-nation bloc signed a free trade agreement in 2009, after more than six years of talks and negotiations.
However, it does not include investment and services sectors.
India has been pushing for inclusion of those two sectors in the pact, but negotiations have been slow, because of differences over various issues.
However, Mr Sharma said the two sides could be reaching an agreement soon.
"Both the sides are now holding talks to further expand the terms and conditions of the free trade agreement to include services and investment, thus paving the way for a comprehensive economic partnership agreement. We hope to achieve this by end of 2011," he added.