UK service sector sees slowdown in growth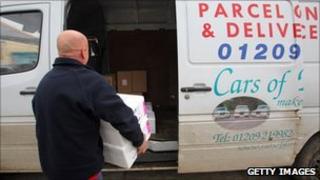 Growth in the UK's service sector slowed by more than expected in February, a survey has suggested.
The latest Markit/CIPS Purchasing Managers' Index (PMI) for the service sector fell to 52.6 in February.
This was down from January's figure of 54.6, which was boosted by the rebound in activity after December's snow. A measure above 50 indicates expansion.
However, analysts said February's slowdown could make an early interest rate rise less likely.
"This is potentially crucial. The Bank of England has flagged that it is waiting to see if the weakness in underlying growth in Q4 was temporary or not," said Alan Clarke at BNP Paribas.
"A rate hike in the next few months is not the done deal that the market had priced in."
But other analysts were less concerned.
"I don't think this number is that surprising," said Richard Barwell at RBS.
"The PMI is on a rollercoaster: there was the snow effect in December and a bounceback in January. Now it's just returned back to normal."
Pound weakens
The survey of the service sector is closely watched as services account for about three-quarters of the UK economy.
Earlier in the week, other data from Markit/CIPS indicated that the manufacturing sector had grown at a record pace during February, and that the construction sector had expanded at its fastest pace for eight months.
In its report, Markit/CIPS said that the two surveys suggested the UK economy would grow by 0.5% in the first quarter of 2011
However, the report noted that the growth in the first quarter was probably flattered by the rebound in activity from December's snow disruption.
As a result, it said that the underlying performance of the economy was weaker than the 0.5% figure.
The pound weakened on the currency markets as analysts pushed back their estimates of when the Bank of England might increase interest rates.
Against the dollar, the pound slipped to $1.6261, while against the euro it was trading at 1.17180 euros.