Renault says probe into spying claim continues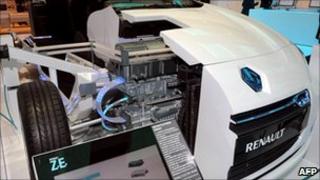 Carmaker Renault has said that investigations are continuing into possible foreign bank accounts linked to alleged industrial espionage.
However, a lawyer for the French company said there was no clear evidence yet of accounts in either Switzerland or Lichtenstein.
He was responding to reports in France that a police probe into three former managers had so far drawn a blank.
But Jean Reinhart told Europe 1 radio that Renault remains a "victim".
Allegations that Renault was the subject of industrial espionage surfaced in January.
Three Renault managers were sacked amid a flurry of claims in the French media that a Chinese company may have sought secrets about a new electric car.
Beijing categorically denied the suggestion and Renault never confirmed that China was under suspicion.
On Thursday, French media, citing unnamed sources, reported that investigators had found nothing to incriminate the former managers, who deny wrong-doing.
Mr Reinhart said: "Nothing has come back to us for the moment, which means that this morning we are unable to say whether we have been manipulated or not."
He added that "we have no information that leads us in one way or another to say that the scenario of espionage does not exist".
Even if no suspicious bank accounts are discovered, Renault would still want to know what had happened. "In any case, Renault will be a victim," he said.