University lecturers vote for pension strike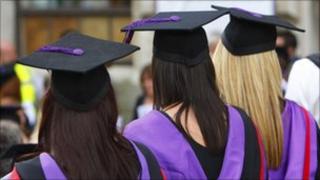 Lecturers at 63 universities have voted to go on strike in a dispute over impending changes to their pension scheme.
Members of the University and College Union (UCU) voted by 65% for strikes, on a 36% turnout.
They plan to hold a staggered series of two-day strikes at the universities in the two weeks from 21 March.
The union says it wants to stop university employers from reducing the pension scheme's benefits from 1 April.
"Considering the limited timetable we had to ballot, this is a fantastic result and a clear mandate for action should the employers push ahead with their plans to impose the damaging changes to the pension scheme," said UCU general secretary, Sally Hunt.
However, the Universities and Colleges Employers Association (UCEA) described the turnout as low and the vote as close.
"The figures point to some 50,000 UCU members recognising that pursuing industrial action is not the answer to dealing with the very serious challenges we all face," the UCEA said.
Changes
In January, the university employers agreed to tone down some of their earlier proposals.
Future pension increases will be linked to the consumer prices index (CPI) up to a maximum of 10% a year rather than the 5% first suggested.
However, in order to cut the long term cost of funding the scheme, which has about 130,000 active members paying into its investment fund, the employers are pressing ahead with plans to:
remove favourable early retirement provisions before the normal pension age of 65
link increases in the scheme's normal pension age to increases in the state pension age
increase the employee contribution rate for members of the current final-salary section from 6.35% to 7.5%
bring in a less generous career-average scheme for new joiners
ensure that employees bear at least 35% of the cost of any future increases in the underlying cost of the scheme.
The UCU said it would not go ahead with the planned strikes if the employers were prepared to go to the conciliation service Acas for further talks to resolve their dispute.