Benefits payments could be put on 'library card'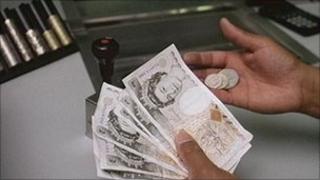 Thousands of benefits recipients currently paid by cheque could receive their money on a token "like a library card", the government has said.
Only 250,000 out of 18 million benefits claimants receive money by cheques cashed at post offices - often as they do not have a bank account.
However, the system is to be run through PayPoint outlets instead, and cheques will be phased out over a year.
There are 22,000 PayPoint outlets in UK supermarkets and convenience stores.
Contract
The change is coming about because the Department for Work and Pensions (DWP) has awarded the £20m-a-year contract to replace welfare cheques to Citibank, which will use Paypoint outlets, instead of the Post Office.
The contract, which begins in 2012, does not affect the millions of people who have their benefits paid directly into their bank or Post Office Card account.
However, nearly 250,000 receive cheques, often because they do not have an appropriate bank account for for direct electronic payment.
Most of the cheque users are on in-work benefits such as jobseeker's allowance or income support. But 60,000 are pensioners and 38,000 are on Disability Living Allowance.
The DWP said that this cheques system was open to fraud, and the use of cheques had also plummeted.
A spokeswoman said that in the future people would have a token of some sort "like a library card", which would be presented at a PayPoint outlet along with an official form of identification, for claimants to be able to receive their cash.
PayPoint said that no final decision had been made, but a "document" of some sort would be used.
'Advice needed'
The DWP also announced a £73m fund to support credit unions, in an effort to provide alternatives to loan sharks.
Ministers expect the Post Office will link to credit unions to provide families with wider access to banking services.
The DWP said post office branches could also play a part in delivering the new Universal Credit, which is replacing several benefits. They could add to their current work verifying identities for National Insurance applications and pension claims.
Andy Burrows, of Consumer Focus, said the watchdog had concerns over the contract being awarded to Citibank.
"Our research suggests that people, particularly those on a low income, value the security and privacy that post offices provide," he said.
"We are concerned that many convenience stores will not be able to provide the kind of service many consumers need."
Michelle Mitchell, of charity Age UK, said: "Giro-cheques are incredibly important to many pensioners, particularly those with limited mobility who rely on other people to access their cash.
"It is vital that older people are given the information and advice needed for a smooth switchover and that the new service meets their requirements."