Analysis: What would BSkyB sale mean?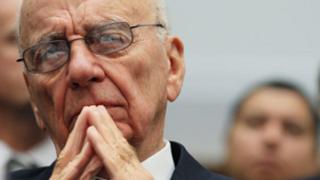 If News Corp's takeover of BSkyB goes ahead, it will be a big deal financially - but how big a deal is it for viewers and those concerned about choice and competition in news media?
Media ownership has always been an area of political controversy. The idea of one man or company controlling a large share of the nation's newspaper and broadcasting interests is an issue of public concern.
Most people accept that freedom of speech is enhanced by a diversity of editorial voices.
It's why there was concern when ITV said it could no longer afford to make regional news bulletins to compete with the BBC's.
It's why there are legal restrictions on media ownership and why media takeovers must be scrutinised by regulators and ministers.
And it's why Ofcom initially recommended that the Competition Commission should investigate the News Corp bid for BSkyB and why Jeremy Hunt originally said he would do so.
Remedies
So what changed?
News Corp told the minister it believed it could offer remedies that would overcome Ofcom's concerns, thus precluding the cost and delay of a Competition Commission ruling.
After lengthy negotiations with Ofcom and the Office of Fair Trading, News Corp's undertakings have been provisionally accepted - and opened up for a 15-day public consultation.
So what difference would a News Corp takeover of BSkyB make?
Not much, according to some observers. News Corp already owns four UK newspapers - the Sun, The Times, the Sunday Times and the News of the World - and 39% of BSkyB, which regulators regard as a "controlling" interest.
For more than twenty years, BSkyB has been chaired by Rupert or James Murdoch - yet Sky News is widely regarded as independent and impartial.
So if the deal goes ahead, viewers shouldn't notice any change - at least to start with.
Sky News would be hived off as a separate company, listed on the stock exchange, with an independent chairman and directors. News Corp would have a 39% stake - as it does in BSkyB at the moment - and would also guarantee funding for Sky News for ten years, an important consideration since the channel makes heavy losses - thought to be about £20m a year.
'Window dressing'
The Culture Secretary Jeremy Hunt said the media regulator Ofcom had advised him that the undertaking now met its concerns over the plurality of news, which is why he was minded to approve the takeover without referring it to the Competition Commission.
That's not the view of rival media groups, who have been fighting to stop the takeover for months.
One group, including the Telegraph, the Guardan, the Mail and BT, claimed the proposals were "window-dressing" and the undertaking did "nothing to address the profound concerns that the takeover would give News Corporation greater power to restrict or distort competition through cross-promotion, bundling, banning rivals' advertisements and distorting the advertising market with cross-platform deals".
Others argue that those issues have already been addressed by competition regulators. The European Union has approved the takeover on competition grounds.
But Michael White of the Guardian told the BBC that Rupert Murdoch should never be under-estimated
"He makes deals with politicians, he squares them or squashes them" Mr White said.
"He's recently done a similar thing buying The Wall Street Journal in New York. His ambition never ends and then he gets round deals - he's brilliant at it and politicians are afraid of him. It's like being in a room with a three hundred pound gorilla."
Where the deal would strengthen the Murdoch group is in its scale and financial muscle. It would be taking over BSkyB just as its profits are set to soar, after years of heavy investment in digital technology, broadband and high definition TV.
It would mean that News Corp could compete even harder with the BBC, BT and other media organisations, in buying up programmes, performers and sports events, which it could then use across all its media outlets, including the internet
News Corp would also like to replicate the UK success of BSkyB in other countries.
But that is where viewers, in due course, might start to notice a difference.
Would News Corp continue to invest as heavily in BSkyB as the current management and independent directors have done? After years of investment in sport and movies, Sky is spending more on original British content - in drama, comedy and Sky Arts - as well as new technology ventures such as 3D.
It has also just launched Sky Atlantic, showcasing the top HBO shows from the United States, as well as Mad Men.
If News Corp takes full control of BSkyB, might it decide that the UK market no longer needs the same investment - and it could spend its money more profitably in other countries?
That may depend on how much it's prepared to spend to buy BSkyB.