Philippines inflation up by 4.3% on rising oil prices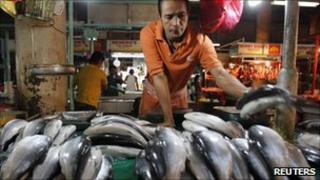 Philippines consumer prices increased more than expected in February as inflation hit a nine-month high.
The Consumer Price Index rose by 4.3% from a year ago because of higher food and oil prices, according to the Census Department.
Analysts warned that the latest numbers could force the central bank to raise interest rates.
The Philippines is the only major Asian economy not to have raised rates since the end of the global financial crisis.
It has kept interest rate unchanged at 4% since July 2009.
However, Amando Tetangco, the Central Bank governor, indicated that its policy could change.
"This supports our view that the scope for keeping rates steady has narrowed," Mr Tetangco said.
External factors
While the central bank has been under increasing pressure to raise the cost of borrowing to rein in prices, analysts say that external factors may see it delay that decision.
"Given that global crude prices are rising, the central bank may become a little more tolerant of exchange rate strength to ease the cost of imported raw materials," said Sherman Chan of HSBC.
The price of food and other essential commodities has been increasing worldwide as demand continues to rise.
However, analysts say other factors are also playing a big role in fuelling inflation - not least the recent spike in oil prices.
"This adds even more uncertainty concerning the price outlook," said David Hallam, of the UN's Food and Agriculture Organization.