Hermes reports increasing sales and higher profits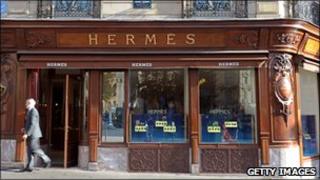 French luxury goods group Hermes has announced a net income of 421m euros ($587m; £361m) for 2010 against 288m euros in 2009, citing increased sales from both established European stores and new shops in Asia.
Sales rose 25% to 2.4bn euros in 2010.
The group said its operating margin rose by 3.6 percentage points to 27.8%, the best performance recorded since the group went public in 1993.
Hermes said it would open 13 new branches this year.
The firm is not planning significant price rises on the back of the recent increase in the cost of raw materials, such as leather, said chief executive Patrick Thomas.
"We want to make sure that a Hermes object remains accessible in the long term," he added.
Last month, luxury goods manufacturer LVMH, which has a 20% stake in Hermes, reported record revenues of 20.3bn for 2010.