Renault says espionage claim may not be true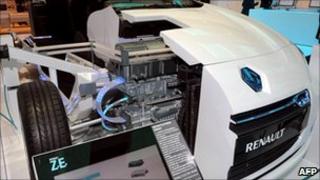 A senior Renault executive has for the first time cast doubt on claims the French carmaker was the victim of industrial espionage.
In an interview with Le Figaro, chief operating officer Patrick Pelata said Renault may have been tricked into believing it was the target of spying.
Three executives were sacked and China issued an angry denial amid a whirlwind of allegations about the affair.
Mr Pelata said "a certain number of elements lead us to doubt" the claims.
The issue risks becoming a huge embarrassment for Renault, observers said, and on Friday French finance minister Christine Lagarde weighed into the row.
She told radio station RMC that "what counts today is getting to the truth and getting there quickly, and if the suspicions were unfounded that justice be done, confidence restored and compensation paid".
In January, Renault fired three executives and lodged a legal complaint over suspicions that information about its electric vehicle programme had been passed to a foreign power.
While no country was named, the French media pointed the finger at China, prompting a categorical denial from Beijing.
On Thursday, after unnamed sources were quoted in the French media that investigators had found no evidence, Renault's lawyer said that the intelligence services were still probing the existence of bank accounts in Switzerland and Liechtenstein.
In the Le Figaro interview on Friday, Mr Pelata said Renault had arrived at "two hypotheses".
He said: "Either we are confronted with a case of espionage and a senior security executive is protecting his source despite everything. Or Renault is the victim of a manipulation, which we don't know the nature of, but which could be a fraud.
"In this case, if all the doubts are lifted, we will propose the reinstatement of the three executives and, in any case, Renault will be very careful to make good any injustice."
The three sacked executives have vehemently denied any wrong-doing.