New car sales slump slows in February, says SMMT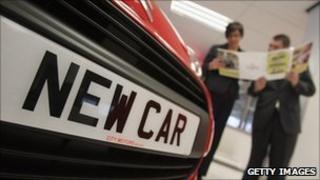 The drop in new car sales since the end of the scrappage scheme slowed markedly in February, figures have shown.
New registrations of 63,424 were down 7.7% versus a year ago, according to data from the Society of Motor Manufacturers and Traders (SMMT).
Sales have fallen for eight months, but February's rate was the lowest, and was better than the SMMT had expected.
The industry group cited a 8.6% rise in purchases for company car fleets for the relative improvement.
The scrappage scheme accounted for almost 20% of February sales a year ago, according to the SMMT's data.
But while the scrappage scheme is definitely still a contributing factor, the 27% decline in private car sales reflects the serious pressure that UK households still find themselves under, according to Howard Archer of IHS Global Insight.
"While the February car sales performance was better than expected, the sector still appears to face a challenging looking 2011, particularly with respect to private sales," he said.
Focus on March
February is typically a very slow month in the UK for manufacturers, with many buyers deferring their purchases until new number plates are issued in March.
"The UK motor industry is looking for a strong March market to help boost confidence and kick start demand for the new 11-plate," said SMMT chief executive Paul Everitt.
He also said the upcoming budget will play an important role in boosting confidence, with motoring taxes, fuel duty and support for business investment the key variables.
Sales of diesel cars continued to pull ahead, up 9% compared with a 20% decline in petrol car registrations.
Sales of executive, luxury saloon, sports and MPV cars all saw double-digit growth.