Oil price rises as Libya tensions grow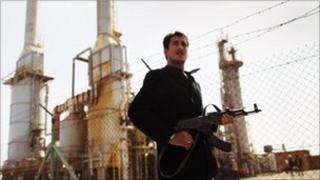 Crude oil rose by more than $1 as fighting in Libya intensified and amid reports of protests in Saudi Arabia's oil-producing eastern region.
Brent crude futures for April delivery settled $1.02 at $115.98 a barrel.
US crude futures for April rose by $2.51 to settle at $104.42 a barrel, the highest close since September 2008.
Traders said that they were keeping a close eye out for any intensifying problem in the key oil producing country Saudi Arabia.
"Saudi Arabia is the main risk in the region. It has all the spare capacity, and if there is unrest and production disruption then it means an explosion in oil prices. But I think the risk is an exaggeration," said Christophe Barret, global oil analyst at Credit Agricole.
There was also some disappointment that a proposed Arab League peace plan for Libya appeared to be faltering. One of the uprising's rebel leaders has rejected the idea.
Libya's oil output has fallen by more than half to 700,000-750,000 barrels per day as most foreign oil workers have taken flight.