Birmingham City owner Yeung looks to inject funds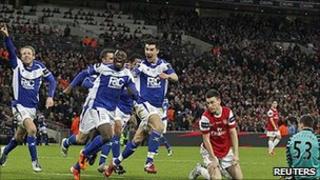 Birmingham City owner Carson Yeung is to pledge personal property as security to bring fresh income to the club.
Holding firm Birmingham International Holdings (BIH) told the Hong Kong Stock Exchange that liabilities exceeded assets by £27m.
This indicated "a material uncertainty that may cast significant doubt on the group's ability to continue as a going concern", BIH said.
On Sunday, Birmingham won the Carling Cup 2-1 against Arsenal at Wembley.
It was the club's first silverware since 1963.
On Friday, a spokesman has said there were "no problems" with day-to-day operations at the club.
Mr Yeung, the major shareholder in BIH, is to put Hong Kong property up as security for an £11.8m loan.
According to BIH, Yeung's funds will "provide sufficient financial resources" to allow the business to continue "without significant curtailment of its operation".
The holding company also intends to bring in working capital of £24.4m.
Some £7.1m will come from a financial institute and £17.3m from making new shares available in the company.
Meanwhile, BIH also said there was a player pool bonus for the squad should they retain their Premier League place.