UBS chief Oswald Gruebel forgoes bonus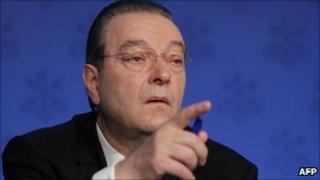 The chief executive of Swiss bank UBS is to waive his bonus for the second year in a row because of the company's falling share price.
Oswald Gruebel is thought to be the only boss of a large bank to forgo a bonus so far this year.
Mr Gruebel was entitled to a bonus based on profit and progress toward medium-term strategic goals in 2010.
UBS said his base salary stays the same as when he joined in February 2009, at 3m Swiss francs ($3.22m; £2m).
"The fact that the share price did not increase in 2010 has led to Mr Gruebel's decision," UBS said in a statement.
UBS shares fell 4.4% in 2010 but outperformed the Stoxx European Banks index, which dropped 11.6%.
Many bank chiefs waived bonuses for 2009. But pay-outs have been reinstated following the performance of financial institutions in 2010, with several executives taking bonuses in deferred share awards.
Mr Gruebel came out of retirement to run UBS two years ago after the bank was rescued by the Swiss government.