MPs call for money lessons in schools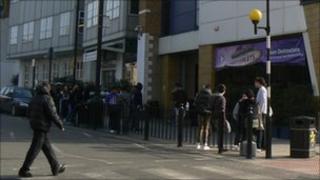 More than 200 MPs have signed a motion calling for financial education to be made compulsory in schools.
The MPs want all school children to be taught about money issues, including how to buy a mobile phone, or how to compare bank accounts.
A government education review is currently considering which subjects ought to be compulsory.
The all-party parliamentary group is lobbying for the subject to become a key element of the national curriculum.
"We are bombarded with mobile phone tariffs, direct debits, standing orders and complicated deals," says Justin Tomlinson, a Conservative MP who heads up the group of MPs, called Financial Education for Young People.
"It's a difficult and challenging world out there, and I want to be able to equip young people so they can make informed decisions."
"Very important"
Some schools do currently provide lessons in how to handle money, but availability is often down to individual institutions.
Tower Hamlets College, in the east end of London, is one place where further education students do get taught about money issues.
Often it is as part of a wider course, such as business studies or hairdressing.
"It's very important," says one student, 20-year old Waseem Shaikh.
"I'm planning on going to university next year. If you decide to take a loan, you need to know what interest rate to pay."
Fellow classmate Mohammed Munya, aged 17, agrees.
"I've learnt about the small print that credit card companies use, and what APR stands for," he says.
But should such lessons be compulsory, and should tax payers be funding them?
Private cash
Many of the UK's High Street banks already put money into financial education.
This week Barclays announced a £15m cash injection, to help pay for resources to teach youngsters.
But some are privately unhappy that services are being supplied by the private sector at all.
"They have their own agenda," said one charity worker.
The banks argue they are filling a gap which is not being catered for by public funds.
"The intent of this is not to win business," says Deanna Oppenheimer, the chief executive of Barclays UK Retail.
"Wherever a person chooses to get a current account, it's just important they understand how to manage their money," she says.
The Barclays scheme aims to reach a million 16 to 24-year olds, with up to 2,000 of the bank's staff giving up time in the office to help.
Key issue
The government says it will consider the MPs' demands, as part of its two-year review of the schools curriculum.
But it points out that it is moving away from making subjects compulsory, preferring to leave things such as financial education up to individual schools.
John Hayes, the Minister for Further Education and Skills, told the BBC that the issue was important, but enough was already being done through existing schemes.
"We know that people need to know how to manage money," he said.
"Our support for high quality education feeds into our ambitions to build a literate, numerate citizenry."
But the MPs are still determined to get such lessons onto the timetable as a compulsory subject.
They are now preparing a full report on the issue, and say they have got the support of more than 60 relevant organisations.