Li-Ning sportswear looks to win overseas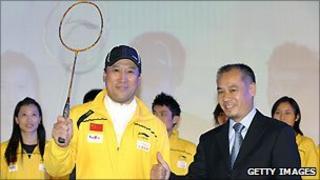 Many big-name sports stars have created their own sportswear brands as a means of stamping their identity, and also ensuring a healthy business interest for when their playing days are over.
Rene Lacoste, Greg Norman, Franck Mesnel and Johan Cruyff are just some big names who have created flourishing sporting apparel firms.
But one name perhaps unfamiliar in the West is that of former Chinese gymnast Li Ning.
His eponymously named clothing line describes itself as "one of the leading sports brand enterprises" in China, with close to 8,000 outlets in the country.
Analysts had originally touted the Olympic Games in Beijing as heralding a breakthrough for the firm in Europe and the US, having already challenged Nike and Adidas at home.
Now, more than two years on, the Li-Ning Group has finally announced a large-scale expansion strategy into the European market.
The largest Chinese sporting products company has signed a 14-year agreement with Finland's L-Fashion, one of the biggest sport and leisure clothing manufacturers in the Nordic region.
'More attractive'
Under the terms of the new project, due to start in 2012, the Finish group will concentrate on wholesale distribution in nine countries - Germany, Austria, Sweden, France, Slovenia, Croatia, Finland, the Netherlands and Russia.
The Finnish firm will take responsibility for sales, marketing and design of the Li-Ning clothing items in the nine countries.
And, although Li-Ning already has a foothold in Europe through the Kason badminton brand which it bought in 2009, many feel it has to do more to make sure its name becomes a recognisable one.
Brand expert Nigel Currie of Brand Rapport suggests that to make an impact overseas, the firm should focus on two sports in particular, golf and tennis.
"These are two of the highest-profile sports which reach every market and also where Chinese athletes are increasingly competitive at the highest level," he says.
"If they could secure Chinese athletes within this sport who had the potential to go on and become Grand Slam or major winners in years to come, this would make them significantly more attractive on the world stage."
'Upgrade brand image'
The world stage is definitely where Li-Ning wants to be a player, as roughly 90% of its group sales currently come from China.
In a statement this January, the firm said it stood by its "belief that a day will come when China's home grown sports brands" were an international success.
And it also identified the London 2012 Olympics as an opportunity "to upgrade the brand image and win recognition from consumers".
As part of that global ambition, the firm plans to boost its global sales outlets by 20% in the next seven years.
Earlier this year, it also announced a $10m (£6.18m) investment in the US, where it is hoping for a sales expansion in what is a highly competitive market.
It has entered into a partnership with Chicago-based Acquity Group to boost its American distribution and brand awareness.
For its new global strategy, Li-Ning has also created a new logo and a slogan "Make the Change", which also aims to be appeal to a younger generation.
And according to sports analysts SGI, the Chinese firm is looking at increasing investments in branding, advertising and promotion this year.
However, despite all this, there have been some doubts about the effectiveness of the firm's rebranding moves.
According to Goldman Sachs, "the Li-Ning brand is positioned between global mega-brands and domestic mass market brands.
"Without a clear brand value proposition, it risks being stuck in the middle."
It also adds: "Since Li Ning uses multi-brand distributors, they are less dedicated to one brand relative to exclusive distributors, who could be more loyal to a dedicated brand."
And the rebranding, part of its overseas strategy, is being blamed by some analysts for the firm's gloomy performance in the Chinese stock market.
'Short-term pain'
Meanwhile, there are other challenges.
Statements in the company's market filings show a possibility of profit shrinkage, because of increased production costs and a new wholesale discount policy.
However, Adam Zhang, chief executive of Key Sport consultancy and former brand manager of Li-Ning Group, remains positive.
He believes the firm's share price's fluctuation does not effectively show the company's performance or a long-term strategy.
"Li-Ning has to overcome the short-term pain if it plans to be a global brand and compete with Nike or Adidas in the global market," he says.
International rivals
There is no doubt that Li-Ning is definitely the largest Chinese sporting goods company.
But some fear the store quality is not equal to the brand's quantity, and there are other challenges at home.
With the new-found prosperity of many in China, competition in the sportswear sector for these newly-affluent citizens' money is becoming more intense.
That means that Chinese local brands are facing increased competition from global names.
Last year, Nike, the world's largest sporting products maker, said China was its biggest market outside of the US and that it planned to expand its products into lower-tier cities across China.
And Adidas has also shown a continued interest in improving its performance in China by restructuring its business there.
"It will be extremely hard to break the Nike and Adidas domination of this [sportswear] market," says Mr Currie.
He points out that the top big sportswear brands make a point of signing up global sports stars, as well as up and coming talent, to promote their products.
According to Gareth Moore, of researchers Sport & Markt, within China at least, Li-Ning has the same "sponsorship awareness" as Adidas and Nike.
"However, in more than 20 other countries worldwide, there is no unprompted awareness of Li-Ning as a sport sponsor at all," he adds.
'Price-sensitive consumers'
However, among the younger people in China, there is a definite attraction to Li-Ning products.
Chang Liu is a 26-year-old Chinese who sells Nike and Adidas sports shoes online.
He says that while the pair had outlets selling at a huge discount, much of the product was old lines and not particularly trendy.
Mr Liu said in China, many young people preferred to buy Li-Ning's products, for what he said was the same price, but with a better outlook and quality.
"Li-Ning has started to attract more young people in recent years," he says, pointing to deals with NBA stars Shaquille O'Neal and Evan Turner.
"Its products are becoming more popular to a younger generation in China, for price-sensitive consumers in particular."
Now it remains to be seen if the Chinese sportswear giant can have a similar impact on young consumers in Europe and US in the years ahead.