Bangladesh eyes $700m fund to help steady stock market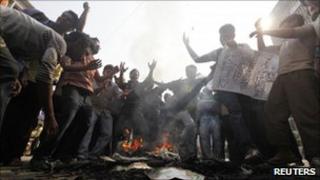 Bangladesh will set up a $700m (£432m) investment fund in a bid to stabilise the country's stock market.
It will be backed by eight state-run financial institutions, according to the Investment Corporation of Bangladesh.
The move is the latest in a series of efforts by the government to try and cut market volatility.
Investors have rioted over the past few months as the Dhaka stock exchange lost more than 40%, or $16bn, in value.
Before the decline, the Dhaka index was one of the best performing in the world.
It rose 80% in 2010, hitting a record high of 8,918.51 on 5 December.
The strong returns prompted millions of Bangladeshis to invest in the stock market.