Hong Kong air show gets orders and Cathay profits boost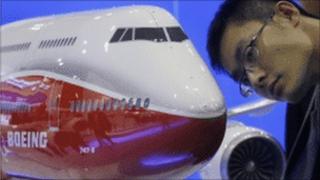 Billion-dollar plane orders for Boeing and Airbus, as well as Cathay Pacific's higher-than-expected earnings, have grabbed the headlines on the second day of the Hong Kong airshow.
Hong Kong Airlines announced that it had ordered 38 Boeing aircraft.
Cathay, meanwhile, reported that net profit nearly tripled in 2010 and said it would buy planes from Boeing and Airbus.
Asia-Pacific is seen as one of the world's fastest-growing plane markets.
Companies are benefiting as economic growth boosts consumer spending power.
Keen to tap into this, Hong Kong Airlines ordered 38 Boeing aircraft including six 777s, as well as 32 of the company's new 787 Dreamliners. The deal is worth $8.5bn (£5.3bn).
On Tuesday, Air China announced it would buy five 747-8s from Boeing for $1.5bn.
Profit growth
Reporting its results, Cathay Pacific said its net income jumped to HK$14bn ($1.8bn; £1.2bn) last year from HK$4.7bn a year earlier.
It credited increased cargo demand, as well as travel in China, for the rise.
Cathay also announced some new aircraft orders, saying it had agreed to buy 15 Airbus SAS A330-300s and 10 Boeing 777-300ERs.
On Tuesday, Airbus had announced a $1.6bn deal with Turkish Airlines for 10 A321 passenger planes and three A330-200 cargo planes.
On Wednesday, Airbus' parent company EADS said that it expected to deliver 520 to 530 Airbus planes this year as it reported a return to profit in 2010.
The aerospace and defence giant made a net-profit of 553m euros ($768m; £476m) compared with a loss of 763m euros in 2009.
Fuel surcharges
However, despite the optimism and large orders, in the short term the airline industry still faces hurdles.
High oil prices are hurting profits, which has led several airlines to introduce fuel surcharges. Two airlines increased their surcharges on Wednesday.
Australia's Qantas Airways announced a rise in its fuel surcharge for international fares, the second time the airline has increased the surcharge in as many months.
Singapore Airlines also said it was increasing its fuel surcharges.