Robert and Vincent Tchenguiz arrested in Iceland probe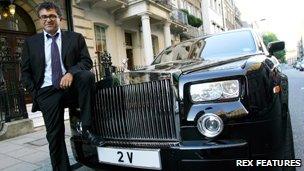 Property tycoons Robert and Vincent Tchenguiz have been arrested as part of an investigation into the collapse of Icelandic bank Kaupthing.
Their offices in central London were raided this morning as part of an operation in which seven other men in the UK and Iceland were also arrested.
The brothers said in a statement that they were "co-operating fully" and were confident they would be cleared.
Robert Tchenguiz borrowed £1.25bn from the failed bank to finance deals.
He used the funds, borrowed months before the collapse, to buy stakes in companies including Sainsbury's and pubs company Mitchells and Butlers.
Robert Tchenguiz also owned a stake in Kaupthing.
A spokesman for the Tchenguiz brothers said that they were released later on Wednesday evening and no restrictions had been placed on their ability to travel.
During the course of the operation in London, which involved 135 police officers and Serious Fraud Office (SFO) investigators, seven men aged between 42 and 54 were arrested and taken to police stations for interview.
Two men aged 42 and 43 were also arrested in Reykjavik, the SFO said.
The Serious Fraud Office has been working with Icelandic authorities for more than a year, looking at why substantial funds flooded out of the bank in the days before it failed.
The SFO also said when it launched the investigation that it would study whether the bank had misled savers to try to encourage deposits into its high-interest Kaupthing Edge accounts in the UK.
Kaupthing, once Iceland's biggest bank, collapsed along with the bulk of Icelandic banks during the height of the banking crisis in 2008.
The Tchenguiz brothers released a joint statement confirming their arrest and said they were confident of being "cleared of any allegation of wrong-doing".
They said: "We were arrested earlier this morning and are being questioned with regard to matters relating to our relationship with Kaupthing Bank.
"Both of us are co-operating fully with the investigation and are confident that, once concluded, we will be cleared of any allegation of wrongdoing," the said.
Last year. an official Icelandic report into the country's financial crisis criticised the extent of Kaupthing's loans to Robert Tchenguiz and companies. "Rules on large exposures were not followed," the report said.
The brothers, through family trusts, have issued a writ against Kaupthing claiming £1.8bn for fraudulent misrepresentation.
The writ, first issued in Iceland last year, alleges that the trusts were duped into loan and collateral agreements because the bank failed to disclose the true state of its finances.
The Tchenguiz brothers are known as much for their socialising as their business deals.
Robert Tchenguiz dated the model Caprice, while Vincent has often spoken of his high-rolling in casinos and how he won £1m gambling on the outcome of the Euro 2004 football tournament.
The brothers and their homes and yachts have regularly featured in magazines and newspapers.