Japan's economy shrinks more quickly than first thought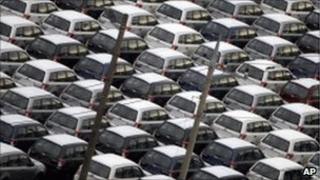 Japan's economy contracted more quickly than first forecast in the final three months of 2010, hurt by weaker consumption and business investment, government figures showed.
The Cabinet Office said Japan's economy contracted by a revised 1.3%, compared with a preliminary report of 1.1%.
However, despite the new figure, Japan's economy grew by 3.9% in 2010.
Last month, Japan was overtaken by China as the world's second-largest economy.
Export growth
Japan's economy has been hit by a drop in domestic demand.
Car sales have been hit after a number of government subsidies came to an end, and a new tobacco tax has affected demand for cigarettes.
A strong yen hurt has also hurt exports.
However, the government is forecasting that Japan will emerge from the current economic lull later this year, helped by a pick up in foreign sales.
"Exports will lead growth this year, but consumption may not do well as wage growth is very slow," said Yoshiki Shinke, senior economist at Dai-Ichi Life Research Institute.